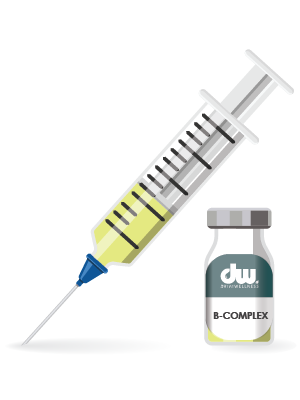 B-Complex Injection
$50
Vitamin B complex contains all the vitamins in the B group. B vitamins are water-soluble. This means they are dissolved in water and your body doesn't store them. B vitamins are related to each other and work closely in your body.
Ingredients – Each mL contains: Thiamine Hydrochloride 100 mg, Riboflavin 5′ Phosphate Sodium 2 mg, Pyridoxine Hydrochloride 2 mg, Dexpanthenol 2 mg, Niacinamide 100 mg, with Benzyl Alcohol 2% as preservative, in Water for Injection.
B-Complex
Taking a B complex supplement may help increase energy levels, reduce stress, boost mood, and reduce symptoms of anxiety or depression.