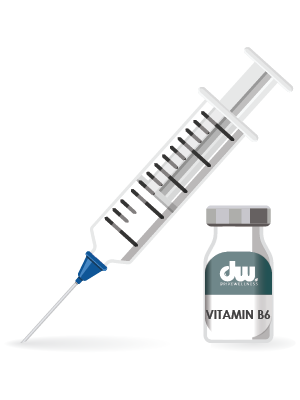 Vitamin B6 Injection
$40
B6 helps in maintaining the health of your brain, immune system and nervous system. Adequate levels of vitamin B6 are necessary to produce neurotransmitters like serotonin, dopamine and GABA, meaning it plays an important role in regulating our mood.
Info – Vitamin B6, also known as pyridoxine, is a water-soluble vitamin that is essential for various biochemical reactions in the body. It's involved in processes like amino acid metabolism, neurotransmitter synthesis, and the formation of red blood cells.
Vitamin B6
Supplementing with B6 has been studied as a potential treatment for mood disorders, depression and PMS. B6 is used in the production of hemoglobin, and it may aid in reducing inflammation throughout the body as well as helping with anemia.