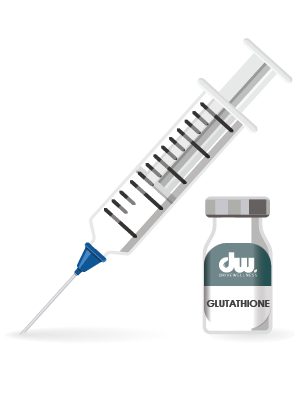 Glutathione Injection
$45
Glutathione may treat a wide variety of health issues including male infertility (intramuscular use), plaque deposits in the arteries, liver diseases, memory loss, and Parkinson's disease (intravenous). It it plays an important role in removing toxins, such as mercury, from the brain and other cells. It is key in supporting immune function, metabolism, forming sperm cells, tissue building and repair, and helping with certain enzyme functions.
Info – Glutathione is a tripeptide composed of three amino acids: cysteine, glutamine, and glycine. It is considered one of the body's most important antioxidants, and it plays a crucial role in various cellular processes, including detoxification, immune system support, and maintaining the health of cells.
Glutathione
As a powerful antioxidant, it may help fight the effects of free radicals, which cause oxidative stress, damage healthy cells and contribute to aging and certain degenerative illnesses. Glutathione levels in the body naturally decline as we age, but can also be reduced by factors like stress, malnutrition, and environmental toxins.