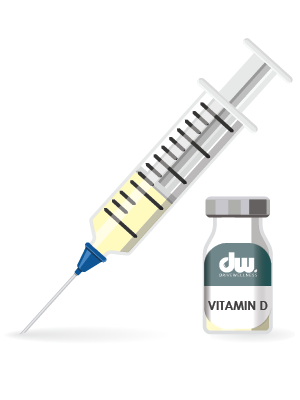 Vitamin D Injection
$35
Vitamin D is crucial to the building and maintenance of healthy bones and teeth. Calcium, the primary component of bone, is only properly absorbed by your body when vitamin D is present. Unfortunately, most people do not get the necessary amount of vitamin D. Therefore, supplementation is needed.
Client must provide lab work that shows a low Vitamin D3 level (below 30).
Info – Vitamin D is a fat-soluble vitamin that is essential for various bodily functions, including calcium absorption, bone health, immune system support, and overall well-being. It's synthesized in the skin through exposure to sunlight and can also be obtained from dietary sources and supplements.
Vitamin D
Some evidence suggests calcitriol plays a role in the immune system and may inhibit cancer growth and stimulate cell differentiation. Receiving vitamin D3 injections can treat and prevent the symptoms of vitamin D deficiency, including fatigue and bone pain. Vitamin D deficiency has been associated with an increased risk of death from cardiovascular disease, cognitive impairment in the elderly, severe childhood asthma and cancer.