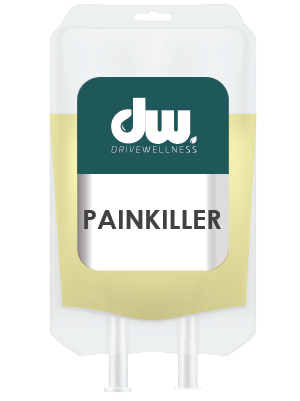 Pain Killer Drip
$149 – Duration: 45 Mins
Living with chronic pain not only impacts your quality of life, but it can also limit the length of your life.
Why choose IV therapy? Many people take pain medications for their chronic condition. Over time, the body becomes conditioned to these medications. They become less beneficial and can even stop working. This means you'll likely need to take additional pain medications to reach the same level of relief. Sometimes, pain medications have numerous side effects or are addictive.

IV therapy may help alleviate chronic joint and muscle pain, CRPS, pain from arthritis, fibromyalgia, back pain, or even migraines.
Ingredients – Ascorbic Acid (Vitamin C), Magnesium Chloride, Tri-Amino Blend, Riboflavin, Toradol
Painkiller Drip
IV therapy may help alleviate chronic joint and muscle pain, CRPS, pain from arthritis, fibromyalgia, back pain, or even migraines. Ascorbic acid, or Vitamin C, boasts diverse benefits. It's a potent antioxidant, shielding cells from damage and bolstering the immune system. Vitamin C aids collagen production, enhancing skin health, wound healing, and joint function. It boosts iron absorption, preventing anemia, and supports cardiovascular health by maintaining blood vessel integrity. It also aids in brain health, reducing the risk of cognitive decline. With its wide-ranging advantages, Vitamin C contributes to overall vitality and well-being. Magnesium chloride offers multiple health advantages. It aids in muscle function, nerve transmission, and energy production. It supports heart health by maintaining a steady heartbeat and regulating blood pressure. This compound promotes bone strength and density while assisting in protein synthesis and DNA repair. Magnesium chloride also aids in relaxation, stress reduction, and sleep improvement. Tri-Amino Blend combines L-arginine, L-ornithine, and L-lysine, offering multiple benefits. It enhances muscle growth, repair, and endurance. These amino acids support protein synthesis, vital for tissue development and recovery. Tri-Amino Blend boosts immune function, aids hormone production, and promotes collagen formation, benefiting skin, joints, and connective tissues. It also aids in ammonia detoxification and metabolism. As a versatile supplement, it's favored by athletes, fitness enthusiasts, and those seeking overall well-being. Riboflavin (Vitamin B2) provides crucial benefits. It aids energy metabolism, converting food into fuel for vitality. Riboflavin supports healthy skin, eyes, and red blood cell production. It's vital for growth, promoting tissue repair and maintenance. Riboflavin acts as an antioxidant, combating oxidative stress and promoting cellular health. It contributes to nerve function and maintains healthy mucous membranes. Ensuring adequate riboflavin intake through a balanced diet supports overall well-being. Toradol (ketorolac) offers potent benefits as a nonsteroidal anti-inflammatory drug (NSAID). It provides effective short-term pain relief, commonly after surgery or injury. Toradol reduces inflammation, swelling, and pain intensity.