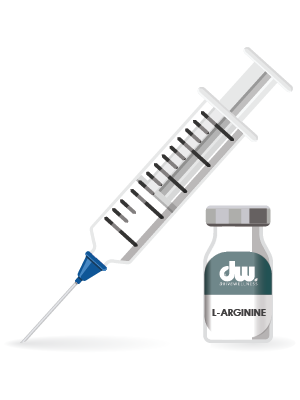 L-Arginine Injection
$45
Arginine helps to dilate or open, blood vessels. It works by converting into nitric oxide in the body. Nitric oxide then dilates the blood vessels by relaxing the muscles that constrict them.

It can stimulate the release of insulin and growth hormone (helps increase muscle mass and reduce the amount of fat in the body).
Info – L-Arginine is a semi-essential amino acid that plays a significant role in various physiological processes in the body. It's important for protein synthesis, wound healing, immune function, and the production of nitric oxide, a molecule that helps relax and widen blood vessels, promoting better blood flow.
L-Arginine
Biotin IV or injection treatments allow the body to absorb the compounds directly, while the bioavailability of oral supplements is affected and reduced by one's metabolism when passing through the digestive system.