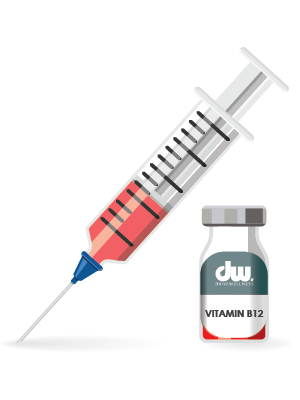 Vitamin B12 Injection
$40
Vitamin B12 is used in the human body to utilize fats and carbohydrates for energy and make new protein. Low levels of vitamin B12 can lead to fatigue and anemia in milder cases. More serious B12 deficiencies have the potential to impair heart and neurological function, leading to a wide range of serious symptoms, including but not limited to tinnitus, severe joint pain, memory problems, depression, anxiety, poor muscle function, ataxia and changes in reflexes.
Info – Vitamin B12, also known as cobalamin, is a water-soluble vitamin that is essential for various processes in the body, including DNA synthesis, red blood cell formation, nerve function, and metabolism.
Vitamin B12
Infertility can also occur in individuals with insufficient B12, as well as delayed growth and development in young children. Early intervention and treatment of B12 deficiencies are key to maintaining healthy bodily function.